Partner Project News
Watershed Teaser Video
March 22nd, 2013 was World Water Day. To celebrate, our creative team of interns, Katia Truong, Steven Breckon and Margaret Morales, has created this short video teaser for the Applied Metagenomics of the Watershed Microbiome project.
ClimateBC_Map
Adaptree team member Tongli Wang has developed ClimateBC_Map, a web tool that uses Google Maps to visualize climate data and its impacts on BC ecosystem. Using this platform, you can see the climate data, the multiple biogeoclimatic zones, tree species ranges and their future projections, and more. Check out ClimateBC_Map here.
Do you have any news on your research project that you'd like to share?
Please let us know so we can feature it in our upcoming newsletters!
 Internship
Intern Feature: Adam Freud
In our Intern Feature series, we will profile genomics.entrepreneurship@UBC interns and their work with our partner projects.
In our second interview of the series, meet our law intern, Adam Freud. Adam has been working closely with Dr. Emily Marden on the Genomics of Sunflower project reviewing intellectual property and biosafety regimes, researching possible harmonization of Canadian plant breeders' right regime, researching potential biosafety pathways for products, and interviewing stakeholders on potential barriers to innovation relating to intellectual property or biosafety. Read what Adam has to say about his experience so far and what he is learning during his internship on his profile page.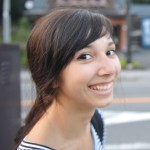 Katia Truong, Animation Intern
genomics.entrepreneurship@UBC is pleased to welcome our newest intern, Katia Truong.
Originally from the Outaouais region of Quebec, Katia began her academic background with a Diploma of College Studies in Fine Arts. In 2010, she was accepted at Laval University as an animation undergraduate. Katia is now living in Vancouver and attending the Emily Carr University of Art and Design, where she is pursuing her studies in the field of 2D and 3D animation.
Katia is creating animation vignettes for our partner projects, such as the watershed video seen above.
Current Openings
Commercialization Analyst
genomics.entrepreneurship@UBC is seeking two BCom or MBA students to create three-year commercialization-strategy plans for our partner projects Harnessing Microbial Diversity for Sustainable Use of Forest Biomass project and TAIGA. We hope to tap into the business skills of Sauder and Beedie students to help our partner projects identify pathways for products and services.
Bee IPM Intern
genomics.entrepreneurship@UBC is hiring a student to work with the Next-Generation Integration Pest Management for Beekeeping (Bee IPM) project. The intern will research beekeepers' understanding and perceptions of selective breeding, as well as their willingness to adopt selective breeding methods.
More information on the positions are available on our Current Openings page.
Internship Program
Do you know a student in science, forestry, business, law or any other discipline who would like to do an internship with one of our partner projects, or have an opening for an intern on your team?
genomics.entrepreneurship@UBC will provide funding for internships of four months full-time or the equivalent part-time hours. Interns may receive training opportunities from genomics.entrepreneurship@UBC and mentorship from our Knowledge Network members. For more information on our Internship Program, please visit the Internships page or contact us.
 Recent Events
Interacting with the Media Workshop
March 14th, 2013
What does whale barf have to do with balsam-fir genes? If you attended our recent Media Relations workshop, you now know!
genomics.entrepreneurship@UBC recently presented a three-hour in-depth Media Relations session with UBC Public Affair's Brian Lin and Heather Amos. Participants learned how to tell their story in order to make the news, to avoid the pitfalls of being misquoted and misrepresented, and to develop positive relationships with the media. Everyone also got a chance to write a headline and leading paragraph for some examples of research papers, and did a role-playing exercise between reporter and interviewee.
Both Brian and Heather received positive feedback from our guests. Thank you to Brian, Heather and all our participants for making the event such a fun and engaging workshop.
 Upcoming Events
Presented by genomics.entrepreneurship@UBC

Intellectual Property Workshop

April 18th, 2013, 1-2:30pm, Beaty Biodiversity Centre, Room 224

genomics.entrepreneurship@UBC, in collaboration with BRITE and TerreWEB, is presenting an Intellectual Property Workshop with Angus Livingstone, Managing Director of UBC's University-Industry Liaison Office. More details to follow soon.
More Events
In addition to the workshops hosted by genomics.entrepreneurship@UBC, we will keep you posted on events of interest on the genomics/entrepreneurship front offered by UBC, Mitacs and other organizations.
Leadership Speaker Series
March 26th, April 15th and May 15th, 2013
entrepreneurship@UBC is hosting a series of 3 talks with distinguished speakers on leadership this spring to build up to the pilot Leadership Course. Speakers include Harvard professor Michael C. Jensen, US Air Force Academy fellow Kari L. Granger, and lululemon founder Chip Wilson. All talks are free and open to the UBC community. More information is available at entrepreneurship@UBC.
Communicating Science to Colleagues & Clients: Industry, NGOs, and Public Institutions

April 4th, 2013
Don't miss TerreWEB's upcoming panel discussion on science engagement and science literacy. A diverse panel will discuss the challenges of communicating science within their respective institutions, and to their clients and stakeholders. The audience will have the rare opportunity to participate in a dialogue with real "end-users" of scientific research and will hear about challenges and opportunities in communicating science. A live webinar is available for those who cannot attend in person. Learn more about the event at TerreWEB.
Let's Talk DNA
April 18th, 2013
Participate in an online chat with Jay Ingram and other Canadian genomics experts to help students, teachers and the public learn more about genetics and genomics. Find out more at Let's Talk DNA.
Professional and Business Effectiveness
April 18th, 2013
UBC Graduate Pathways to Success presents a workshop to help graduate and post-docs improve their communication and business effectiveness, utilize professional business etiquette principles more effectively and manage meetings more successfully. For details, please visit the event page.
Useful Genetics
May 2013
Rosemary Redfield, Professor of Zoology, is offering a Useful Genetics course this May. While not specifically focused on the natural resource sector, as the course title suggests, it promises to offer a thorough understanding of gene function and inheritance, with a practical focus enabling you to apply this understanding to real-world issues, both personal and societal. We think it is an exciting course, and will be taught online in a free 'open education' format. If you'd like more information, visit the course page or check out the video introduction below.
You can view all upcoming events on our Events calendar.
Top Tweets
Follow genomics.entrepreneurship@UBC on Twitter.
 Newsletter Subscriptions
If you would like to receive monthly genomics.entrepreneurship@UBC updates and notifications of upcoming events, please sign up here.
genomics.entrepreneurship@UBC is in partnership with Genome BC and Genome Canada.