GREAT News
Lean Launch Pad for Genomics Wraps Up
genomics.entrepreneurship's second offering of Lean Launch Pad for Genomics wrapped up on March 7th, 2014.
Our five teams, Andira, FREDsense, Remterex, Singularis, and X-Ray, are working on diverse venture ideas from genomics, life sciences and the natural resource sectors. All of the teams had in common the desire to relieve "paint points" – for patients, the natural environment, and researchers – using novel solutions. Inspiring!
Congratulations to all of our teams, and many thanks to all participants for their hard work throughout the program! In total, the teams interviewed 109 people relevant to their industries in their effort to understand the ecosystem they are working in and that elusive "product-market fit". Thanks also to our facilitator, Iain Verigin, for his dedication to all the teams and commitment to figuring out the 'genomic space'.
Read more about the Lean Launch Pad for Genomics at the program page. We are planning our next session now, dates to be confirmed shortly. If you are interested in joining the next cohort, please contact andrea.lloyd@uilo.ubc.ca.
Partner Project News
TAIGA project on the road!
Gave a talk at the @CFIA_Canada in #Ottawa today What's in their genes? Genomics to distinguish tree killers from tree helpers @TAIGALab
— Richard Hamelin (@richamelin) March 7, 2014
@taiga workshop in Quebec City en français !!! pic.twitter.com/bg3CPln8wQ
— Richard Hamelin (@richamelin) March 11, 2014
New AdapTree Paper
Dr. Sally Aitken and AdapTree project members Amanda R. De La Torre and David R. Roberts has published a new paper in Molecular Ecology entitled "Genome-wide admixture and ecological niche modeling reveal the maintenance of species boundaries despite long history of interspecific gene flow." Read it at http://onlinelibrary.wiley.com/doi/10.1111/mec.12710/pdf.
The Nature of Things Visits Aitken Lab
The CBC show "The Nature of Things" and Dr. Jennifer Gardy visited Dr. Sally Aitken's lab to chat about using "genomics information about tree adaptation to climate to predict effects of climate change on tree growth and suggest mitigation policies." Find out more about the day and view some photos at The Modern Forest.
SMarTForests to Host Second Conifer Genome Summit
Drs. Joerg Bohlmann and John MacKay's SMarTForests project, in collaboration with the Sweden's Norway Spruce Genome Project, is hosting the second Conifer Genome Summit, set to take place June 16th to 18th, 2014, in Forêt Montmorency, Québec, Canada. This event will facilitate updates on the most advanced approaches in genome sequencing, assembly and annotation, as well as updated on the interpretation and practical application of the information gleaned from conifer genomes. Visit the SMarTForests website for more information.
Watershed Metagenomics Team Publishes New Paper
Watershed Metagenomics researchers Gemma Dunn, Dr. Natalie Henrich, Dr. Bev Holmes and Dr. Prystajecky have published "Microbial water quality communication: public and practitioner insights from British Columbia, Canada" in the Journal of Water and Health. Read more at http://www.iwaponline.com/jwh/up/wh2014126.htm.
Do you have any news on your research project that you'd like to share? Please let us know so we can feature it in our upcoming newsletters.
Internship
New Intern Recruitment for 2014
genomics.entrepreneurship@UBC is recruiting interns for 2014! If you have a specific need or challenge on your project that an intern can help you with, please contact us. genomics.entrepreneurship@UBC will provide funding for four months full-time or the equivalent part-time hours. For more details, please see our Internships page.
Recent Events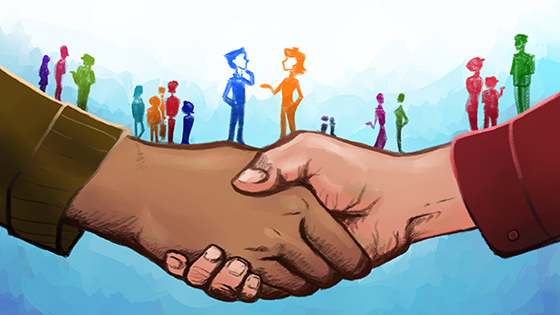 Communicating Science with Impact: Digital Storytelling
genomics.entrepreneurship@UBC hosted the Digital Storytelling workshop on March 25th, 2014 as part of our Stakeholder Engagement module. Facilitated by UBC Faculty of Medicine communication manager, Daniel Presnell, this event introduced participants to the elements of digital storytelling and make makes a narrative compelling. Daniel also presented examples of how to use tools such as Storify to help you tell your story quickly and effectively. This is a big topic and we just scratched the surface in this hour-long workshop. Daniel has agree to come back for a Part II, so we can dig into Storify a little deeper. We look forward to it. Please stay tuned!
Upcoming Events
Life Sciences Institute Start-up 101 LSI is hosting a Start-up 101 seminar April 10th to help you get a better picture of what is involved in spinning off a life sciences company. Hear how founders of successful UBC spinoffs got started, what difficulties they faced and how they made it. The seminar will also include resources available to entrepreneurs at UBC and in Vancouver: from IP protection and incorporation to entrepreneurship training and translational research funding. Angus Livingstone and Andy Talbot, Executive Director at e@ubc, will be on hand as part of the entrepreneurial resource panel, and Cameron Strachan, founder of Metamixis and Lean Launch Pad alumnus, will be on the start-up founders panel. Should be an engaging session! April 10, 2014 9am – 1pm UBC Life Sciences Centre, LSC3 2350 Health Sciences Mall REGISTRATION REQUIRED. REGISTER HERE.
More Events
View our calendar for more upcoming events.
Top Tweets
"20 Years of Evolving Models of #SciComm," slides for my March 29 talk @ubcsagan "Sharing Science" conf http://t.co/wv80n2a3Qr @TheresaLiao

— Matthew C. Nisbet (@MCNisbet) March 28, 2014
Student using twitter to learn about science and critical appraisal RT @laurendobi: me talking about #scicomm : http://t.co/8iMsXRirZs

— genegeek (@genegeek) March 2, 2014
Great HBR piece on strategic storytelling for business, with neuroscience re:how story affects our decision-making. http://t.co/HM9dczDk4w

— Denise Withers (@denisewithers) March 11, 2014
Follow genomics.entrepreneurship@UBC on Twitter.
Newsletter Subscriptions
If you would like to receive monthly genomics.entrepreneurship@UBC updates and notifications of upcoming events, please sign up here.
genomics.entrepreneurship@UBC is in partnership with Genome BC and Genome Canada.